Products
STS Scheltzke GmbH & Co. KG
Telephone: +49 (0) 6147 50174-0
E-Mail:
About STS
In the seventies, the by then employed expert and service-technician for special civil engineering machines, Hans-Georg Scheltzke, travelled around the world in order to carry out repairs or to provide special solutions on site at the customers. Based on the experience and special knowledge of various machine types he gained over the years, Hans-Georg Scheltzke founded his company STS-Scheltzke special civil engineering machines Service in 1995. Having put his initial focus on field service and the manufacturing of replacement and special purpose components, Hans-Georg Scheltzke was able to see the weaknesses and problem situations on site, and to quickly recognize the requirements for the construction sites as well as the demands and wishes of the customers.
What, as in the case of many technicians and inventors, started in a garage, rapidly developed into a company that was able to start the production of first own machine types in 1997 already. Recognizing market needs, Hans-Georg Scheltzke developed further custom-made and future-oriented machine design concepts, that were ordered by construction companies world-wide.
In its, meanwhile, two different plants, the family business today develops, produces and sells more than 120 different special civil engineering machines types. The founder of the company, Hans-Georg Scheltzke, is proud of his employees, who always support him in his vision and have substantially contributed to the development of the company.
In his (nowadays renamed) company STS-Scheltzke GmbH & Co. KG, Hans-Georg Scheltzke today is strongly supported by his son Sven Scheltzke. Together they build a professional team in the special civil engineering machines segment that is able to always provide a maximum amount of know-how and expertise to their customers.
© 2008-2023 STS-Scheltzke GmbH & Co. KG
Up-to-date
Injection-Pump-Container
On behalf of Marti Geotechnik GmbH, we designed and developed… » read more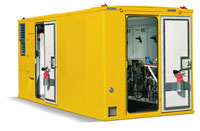 ---